Society Of Women Engineers
Giving Women Engineers a Unique Place & Voice Within The Engineering Industry

OFFICIAL MEDIA PARTNER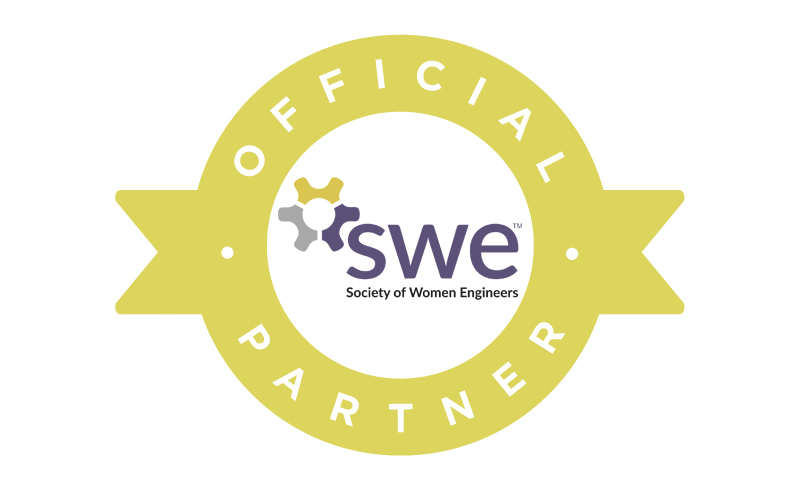 ABOUT SWE
For more than seven decades, The Society of Women Engineers (SWE) has given women engineers a unique place and voice within the engineering industry. Our organization is centered around a passion for our members' success and continues to evolve with the challenges and opportunities reflected in today's exciting engineering and technology specialties.
SWE's mission is to empower women to achieve their full potential in careers as engineers and leaders; expand the image of the engineering and technology professions as a positive force in improving the quality of life, and demonstrate the value of diversity and inclusion.
 
CORE VALUES
Integrity
We aspire to the highest level of ethical behavior as evidenced by honesty and dignity within our personal and professional relationships and responsibilities.
Inclusive Environment
We embrace diversity in its broadest interpretation and commit to creating an inclusive environment for all our members and stakeholders. We value the contributions of a diverse membership, which enables SWE to achieve its full potential.
Mutual Support
We provide an organization that fosters mentoring and the development of professional and personal networks.
Professional Excellence 
We professionally conduct our activities, demonstrating and demanding the highest standards of business practices.
Trust 
We share a common definition of success with open, transparent access to information, building mutual respect and confidence in the abilities of those with whom we lead, serve, and partner.
SWE VALUE PROPOSITIONS
For professionals: SWE provides to its members a unique combination of personalized, flexible benefits in the areas of mentoring, training, personal and professional growth – all by women in engineering and for women in engineering.
For collegiates: SWE provides collegiate members with the opportunity to inspire future generations and to have fun. SWE also provides collegiate members valuable access to a unique set of resources that sets the stage for a successful career.
For employers: SWE helps the engineering profession achieve a broadly diverse, well-trained workforce to enhance overall workplace performance.
SWE provides many flexible options for the profession to inspire, support, and positively impact women in engineering on their own terms.
SWE MAGAZINE
SWE Magazine, the magazine of the Society of Women Engineers, is published five times per year. Reaching more than 40,000 members, stakeholders, and supporters, the magazine provides authoritative information on women's status and challenges in engineering. 
SWE Magazine celebrates the accomplishments of women engineers past and present; explores career development topics; examines broad, cross-disciplinary technical themes; and discusses public policy issues important to women in engineering and STEM.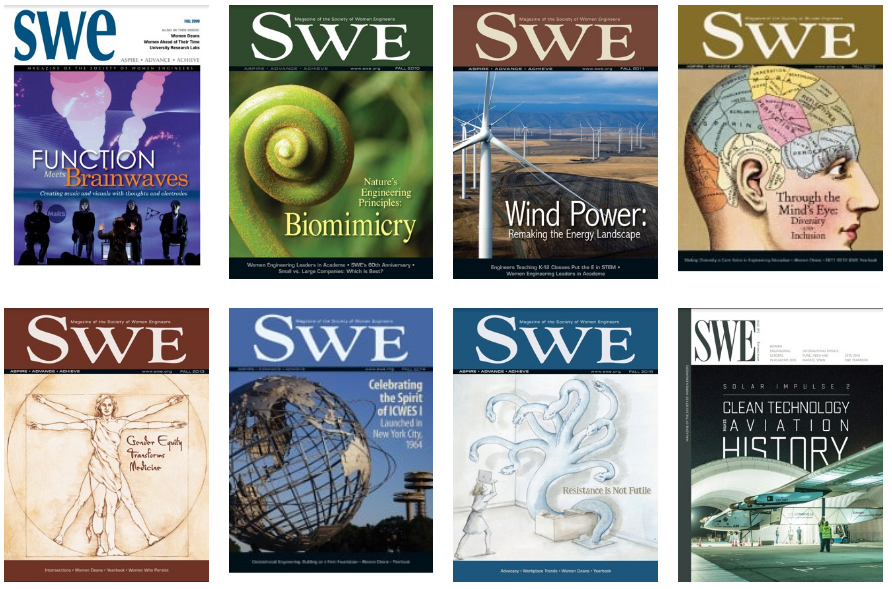 SWE DIVERSITY PRINCIPLES
The Society of Women Engineers (SWE) values diversity, equity, and inclusion as essential to our mission. SWE believes in a world where equal opportunities and equitable outcomes exist for all.
As the leading voice of women in engineering and technology around the world, it is critical for SWE to be explicit in our support for and work toward these ideals. We acknowledge that obstacles, such as bias and discrimination related to gender and race, have resulted in limited and unequal career opportunities in engineering and technology.
SWE recognizes and values the intersections of our members' unique characteristics including, but not limited to: ethnicity, race, culture; sexual orientation, gender, gender identity, gender expression; age; differences in ability; immigration status, nationality, national origin; education; socio-economic status; family structure; military/veteran status; religious/non-religious beliefs.
SWE respects that gender is a continuum. Everyone is welcome to join SWE as a member. Our programs are focused on those who want to be in a woman-oriented space, and we welcome individuals who identify as non-binary or gender expansive who are comfortable in such an environment.
SWE will uphold its core values, including our commitment to diversity, equity, and inclusion. These values will be reflected in the engagement of SWE members individually with their communities. SWE and its members are committed to developing and supporting a diverse, equitable, and inclusive community, to ensure every member feels a sense of belonging.