North Sea gas rigs given go-ahead
Production on the largest new oil and gas field to have been discovered in the North Sea for a decade has been approved by the UK Oil & Gas Authority.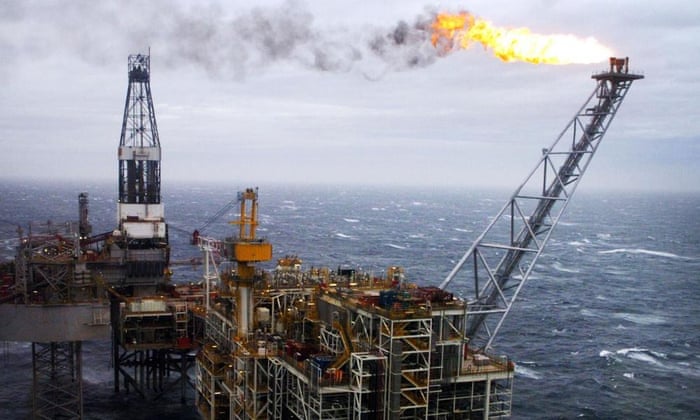 The North Sea development is expected to produce enough gas to meet 5% of the UK's needs and create more than 400 jobs.
The biggest North Sea gasfield discovered in the past decade is to be developed, after energy authorities gave approval for a £3bn investment that could produce enough gas to meet 5% of the UK's needs.
The Danish energy company Maersk will develop the Culzean field that it discovered in 2008, after the UK Oil and Gas Authority granted approval on Monday. The field has gas resources that are the equivalent of 250-300m barrels of oil, and the plan to develop it is expected to create more than 400 jobs and support an estimated 6,000 more in the UK.
The announcement comes amid a wider decline in the viability of North Sea production - and fears of British job losses - and takes advantage of tax breaks announced in the budget this year. The chancellor, George Osborne, welcomed it as "a clear signal that the North Sea is open for business".
The UK has committed to increased gas-fired electricity generation, and the Maersk-operated "high pressure, high temperature" (HPHT) Culzean development should start producing gas in 2019 for at least 13 years, peaking at the equivalent of 60,000-90,000 barrels of oil a day.
Maersk Oil, along with its partners JX Nippon and BP (Britoil), will be investing about £3bn in developing Culzean, with at least half of that committed to investment in the UK. The project has been made more attractive to the investors by new tax allowances to offset the higher capital costs for this type of energy extraction, and to encourage further exploration nearby.
The chancellor warned that such support would not have been made available to the industry by an independent Scotland, which could not have afforded to offer tax breaks. Speaking in Aberdeen, Osborne said: "Today's announcement sends a clear signal that the North Sea is open for business. Already the UK's oil and gas industry supports hundreds of thousands of jobs across the country and this £3bn investment comes on the back of massive government support for the sector.
"Despite challenging times, this government has backed the oil and gas industry at every turn, introducing a vital package of support to help it to protect and create jobs. Despite its claims, the Scottish government would have struggled to deliver such support alone – its own numbers showed that due to the current oil price an independent Scotland would have faced a £20bn black hole in its public finances over the first three years."